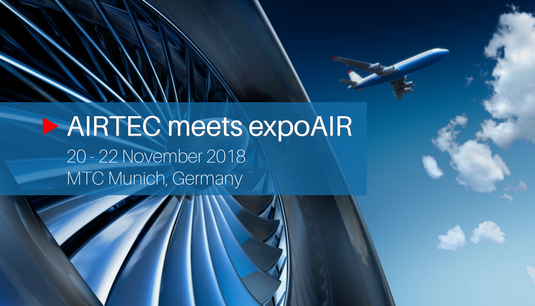 The aerospace supply chain fairs expoAIR and AIRTEC go common ways in the future. Last Friday a cooperation contract was signed between the two makers of AIRTEC and expoAIR, Mrs. Diana Schnabel and Mr. Thomas Eisenberg. The agreement includes both the mutual realization this autumn and a long-term partnership. Both events will take place from 20-22 November 2018 at the MTC Munich.

"The advantages and synergies were obvious", in this point Thomas Eisenberg, managing director of expoSTAGE and organizer of expoAIR, and Diana Schnabel, organizer of AIRTEC, agree. "Especially offering our exhibitors, speakers and visitors a promising home with immense growth potential was important to us", the two continued. Thereto both partners want to contribute their respective strengths, bundle their excellence and thus become an outstanding industry meeting point. There were several important arguments in favour of Munich as the venue for the future event: leading high-tech location in Germany with numerous corporate headquarters and R&D centers, the state of Bavaria, regarding aviation as strategic topic for the future, the synergetic cooperation of aviation and automotive industry - particularly relevant for the future of innovative mobility, Munich Airport, which ensures perfect accessibility from all over the world and, of course, the incomparable international appeal of the Bavarian state capital.

But also the exhibitors, represented by Dr. Olaf Günnewig, Business Development Manager Aerospace at SGS INSTITUT FRESENIUS and chairman of the AIRTEC exhibitor advisory board at the signing of the contract, take a consistently positive view of the new cooperation: "In my opinion, this cooperation is only a first step in significantly strengthening Germany as an aerospace location. The interaction of the aerospace and automotive industries in shaping the future of mobility will determine the economic future of Germany as a whole. Something can develop here that will secure plenty of jobs for everyone in the long term. The cooperation of expoAIR and AIRTEC offers the ideal breeding ground for this."
The partners want to take advantage of this positive tailwind to synchronize all issues relating to the operational implementation in the coming days. What is already clear is that there will be a joint ticket for the event. And a motto has already been found: "AIRTEC meets expoAIR".
"AIRTEC meets expoAIR"
from 20-22 November 2018 at the MTC Munich
www.airtecmeetsexpoair.com
---
Press contact
AIRTEC:
Dr. Ulrich Clemens
T: +49 174 6148131
expoAIR:
Jan Brubacher
T: +49 8106 9940-356